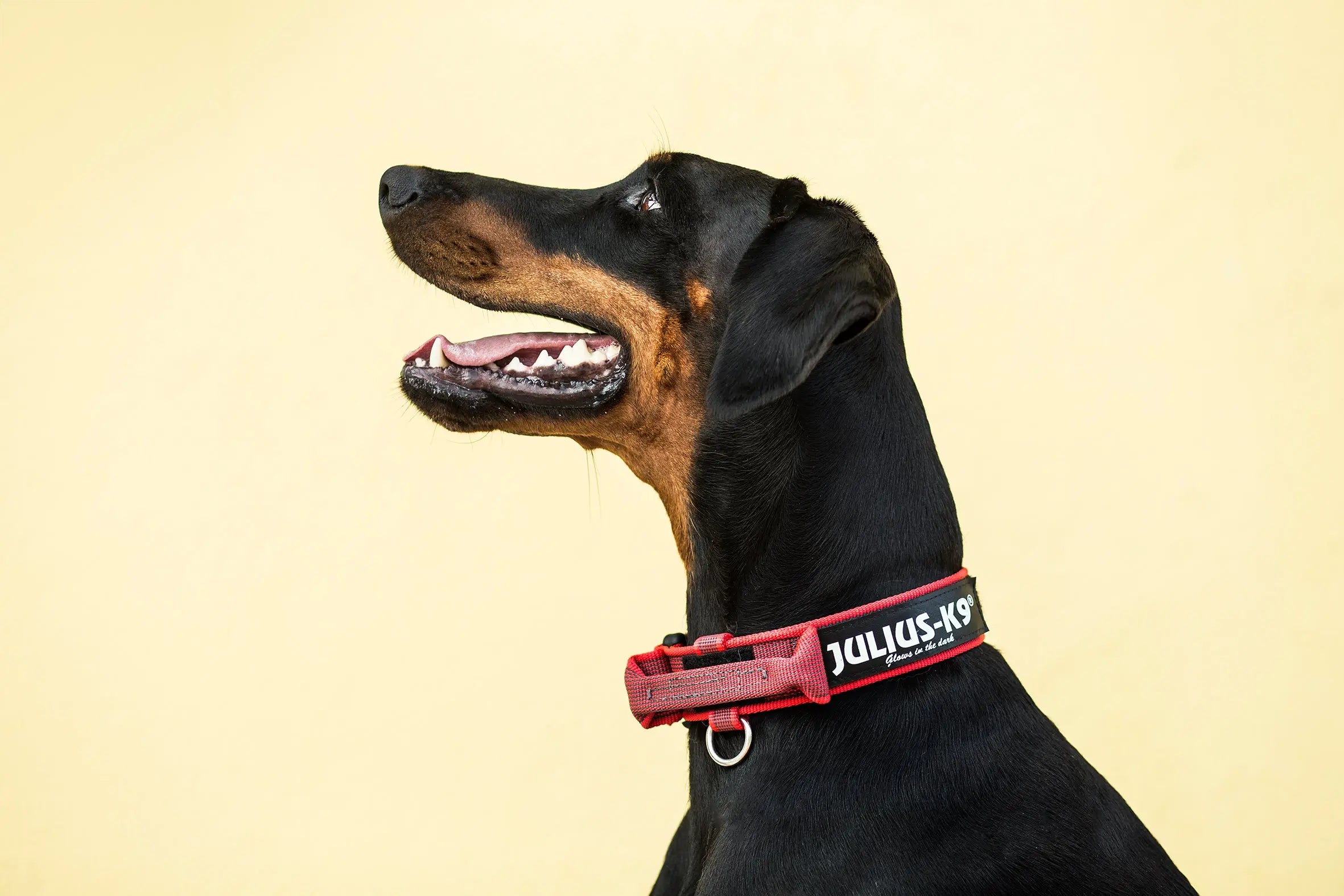 A well fitted dog collar is important for your dog's safety and comfort. If the collar is too tight this will cause discomfort which can provoke uncharacteristic behavior, and can even restrict breathing.
If the collar is too loose then this can be equally dangerous. It can slip into unsuitable positions around the neck and can choke when the leash is pulled. A loose collar can also easily snag on branches or other obstacles if you let your dog off-lead.
Finding The Right Size
Measuring and fitting a collar correctly is easy when you know how. Simply Measure, Add, and think Safety.
Measure:

 

Use a cloth measuring tape and measure your dog's neck circumference. Make sure the tape is snug but not tight to be sure of a correct measurement.
Add:

 

Add

 

two inches

 

to the measurement for the best collar size.
Safety:

 

This plus-two final measurement makes sure the collar is not too tight or too loose. You should be able to snugly fit two fingers between the collar and your dog.
Buying the Right Size
Different sized dog collars are sorted by length. By measuring your dog's neck circumference you will know which collar length you need.
All collars can also be adjusted. Pull-through collars, such as our Color & Gray® All Weather Collars, can be easily sized to ensure the perfect fit.
Width
For smaller dogs a wider collar can be too heavy and be restrictive, so you should look for narrower collars. Larger dogs can benefit from wider collars because they are more robust and offer better handling for owners.
Regularly Check The Size
It is important to remember to regularly check the fit of the collar with the two finger rule as your dog grows or their weight fluctuates.
Which Collar To Buy?
The type of collar you buy will depend on your needs.
Leather collars are popular with most owners due to their durability and smart appearance.
Neon and luminous collars are a good choice for owners who take their dog out on evening walks and want to remain visible.
All weather collars are weather-proof, easy to clean, and are a good all-round option for highly active dogs that like to jump into water and get muddy.
Handled collars add an additional option of greater close control. They are a good choice for owners who may have their dog off-lead in a relaxed environment, but can easily and securely regain control if required.
We have a wide choice of official JULIUS-K9® collars available in range of types, sizes and colours.
Mar 01, 2021

Category:

News
Comments: 0